GreenCreteDomes
uses the greenest of building concepts and products to build safe and affordable homes that are environmentally positive and completely self-sustainable. The dome shape is one of the strongest architectural forms and our homes can be designed to withstand wildfires, tornadoes, hurricanes, earthquakes, tsunamis, and mudslides.
Designed to be Off The Grid, there is no need to install water lines, power lines or sewer lines.
Build your family's dream home - complete with gourmet kitchen, living walls, soaring ceilings, six bedrooms each with a bathroom, multi-level, rooftop gardens, panoramic views - whatever your heart desires.
GreenCreteDomes offers safe and cost efficient solutions for any housing situation.
Being energy efficient allows us to live better with lower costs so everybody wins.
Renewable energy products are permanent and positive alternatives to fossil fuels, and contribute to reduction of greenhouse gas emissions and global climate change.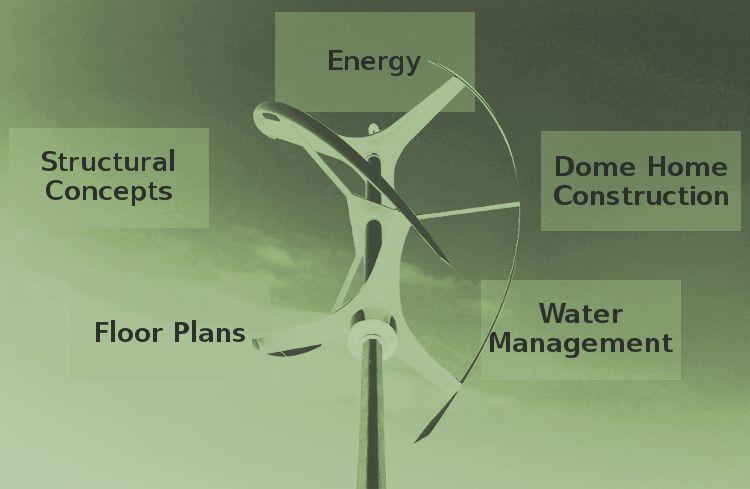 A GreenCreteDome will produce more power than it consumes and the leftover can be used, for example, to run electric and compressed-air cars.
The dome shape allows for a very efficient use of the land. GreenCreteDomes are capable of having rooftop gardens that will allow you to grow food crops to add to self sustainability; give oxygen to the atmosphere; and offer greenspace where there would otherwise be a shingled roof.
The process to build a home is simple and can be done quickly and to building code requirements. GreenCreteDomes use solar, wind and geothermal energy. Combined with hydrogen fuel cell technology to operate gas burning stoves, hot water tanks, water trap composting toilets, passive solar hot water heating, and solar ovens, living in a GreenCreteDome will lessen your dependency on fossil fuels, lessen greenhouse gas emissions, and lower construction costs.